Need a ride to the airport?  We have the perfect solution for you! Introducing the most Reliable Airport Transportation in Mandeville, LA. Northshorexpress is your go-to airport transfer service in Mandeville, LA. With our exceptional track record of being on time every time, we guarantee a hassle-free journey that removes all your travel worries. So sit back, relax, and let us handle all your transportation needs as we ensure a seamless experience from start to finish.
Let's take a look at how Northshorexpress revolutionizes your airport car ride service to the airport or business meeting.
Discover Northshorexpress Airport Transport Service in Mandeville, LA
Northshorexpress is a trusted and reliable airport ride service that operates in Mandeville, Louisiana. We have been providing top-notch transportation services for almost a decade and have established ourselves as the go-to option for travelers seeking hassle-free airport transfers.
Our company was founded on a straightforward principle – to provide efficient, on-time, and comfortable rides to and from the airport. We understand the stress and anxiety of traveling, especially when it involves catching a flight. That's why we are committed to making your journey smooth and stress-free.
We cater to all major airports in Mandeville, including Louis Armstrong New Orleans International Airport (MSY), Baton Rouge Metropolitan Airport (BTR), and Gulfport-Biloxi International Airport (GPT), among others. Our team of skilled drivers is well-versed in these airports' routes and traffic patterns to ensure timely arrivals and departures.
We take great pride in our fleet of vehicles, which are well-maintained, clean, and equipped with modern amenities for your comfort. From sedans and SUVs to vans and cars, we have an extensive range of vehicles to accommodate individuals and larger groups. Our vehicles also undergo regular maintenance checks to guarantee safe journeys for our passengers.
One of our strongest assets at Northshorexpress is our team of experienced drivers, who are carefully screened before being hired. They possess excellent driving skills and exhibit professionalism and courtesy towards our customers. They undergo thorough agendas to ensure they meet our standards.
The importance of reliable airport transfers for business or leisure travel
In today's fast-paced world, time is of the essence for both business and leisure travelers. Whether you are rushing to make an important meeting or trying to catch a flight for your dream vacation, reliable airport transfers are crucial in ensuring a stress-free and efficient travel experience.
For business travelers, punctuality is key. A delayed airport transfer can cause them to miss important meetings or deadlines and poorly reflect their professionalism and reliability. On the other hand, those traveling for leisure often have limited time to explore and enjoy their destination. A late airport transfer can waste valuable holiday time and lead to frustration.
This is where Airport Transportation in Mandeville, LA comes into play. By choosing a reputable company like Northshorexpress in Mandeville, LA, for your transportation needs, you can rest assured that you will be picked up on time and reach your destination promptly.
One of the main benefits of using a professional airport transfer service is their expertise in navigating through traffic and taking the most efficient routes to get you to your desired location. This saves you from potential delays caused by unfamiliarity with the area or heavy traffic.
Moreover, experienced drivers who are trained in customer service ensure that you have a comfortable and safe journey from start to finish. They take care of all aspects of your trip, such as handling luggage, providing local information about the area, and offering assistance with any special requests.
Another advantage of opting for reliable airport transfers is the peace of mind it brings. Knowing that there will be someone
Quality and safety standards of Northshorexpress vehicles and drivers
When it comes to reliable airport transfers, one of the most important factors to consider is the quality and safety standards of the vehicles and drivers. At Northshorexpress, we take great pride in maintaining high standards in these areas to ensure that our customers have a safe and comfortable journey.
Vehicle Standards:
All our vehicles undergo regular maintenance checks and are inspected by certified mechanics. We have a strict schedule for routine maintenance and adhere to it diligently. This includes checking for any mechanical issues, ensuring tires are properly inflated, brakes are in good working condition, and all other essential parts of the vehicle are functioning as they should be.
In addition, all our vehicles are thoroughly cleaned after each trip to maintain hygiene standards. We make sure to sanitize commonly touched surfaces such as door handles, armrests, seatbelts, etc. Our vehicles also go through deep cleaning sessions regularly to ensure a clean and pleasant environment for our customers.
We understand that modern technology plays a crucial role in ensuring vehicle safety. That's why all our vehicles are equipped with GPS tracking systems and cameras, allowing us to monitor their location at all times. This not only helps us keep track of timings but also ensures the safety of our customers.
Driver Standards:
Northshorexpress has a rigorous hiring process for drivers, including extensive background checks and thorough interviews. All our drivers go through comprehensive training programs where they learn defensive driving techniques, customer service skills, proper etiquette when dealing with customers, and more.
Amenities offered in Northshorexpress cars for a comfortable ride
Regarding airport transfers, comfort and convenience are crucial factors for travelers. This is why Northshorexpress cars offer a range of amenities to ensure a comfortable and stress-free ride for their passengers.
1. Spacious and Modern Vehicles:
Northshorexpress boasts a fleet of modern, well-maintained, and spacious vehicles to accommodate all your luggage. The cars have comfortable seats, ample legroom, and climate control to relax you throughout the journey.
2. Wi-Fi Connectivity:
Whether you need to check your emails or catch up on some work during the ride, Northshorexpress offers complimentary Wi-Fi connectivity in their cars. This allows you to stay connected and productive while on the go.
3. Charging Ports:
The last thing you want is for your phone or laptop battery to die during your trip. That's why Northshorexpress cars come equipped with charging ports so that you can keep all your devices powered up throughout the journey.
4. Refreshments:
No need to worry about stopping at a convenience store before heading to the airport – Northshorexpress offers complimentary refreshments in their vehicles, such as water bottles and snacks. This way, you can sit back and relax while enjoying some refreshments on your way to or from the airport.
5. Entertainment Options:
If you're traveling with children or want some entertainment during your ride, Northshorexpress has got you covered with their DVD players installed in every car. You
On-time guarantee and how it sets Northshorexpress apart from other transportation services
Northshorexpress takes great pride in its on-time guarantee for all airport transfers. In today's fast-paced world, timeliness is crucial and can make all the difference in a successful trip or event. That is why we prioritize punctuality above everything else and strive to always be on time for our clients.
One of the key things that sets Northshorexpress apart from other transportation services is our commitment to ensuring on-time arrivals for airport transfers. We understand the stress and inconvenience caused by delayed or missed flights, which can disrupt travel plans and cause unnecessary headaches. That's why we have implemented a rigorous system to ensure that our clients arrive at their destination with plenty of time to spare.
At Northshorexpress,  Airport Ride Service Mandeville LA we have a team of experienced and highly skilled drivers who are well-versed in navigating through traffic and getting you to your destination without any delays. Our drivers are also familiar with the routes to and from the airport, so they know how to avoid road closures or heavy traffic areas, minimizing any potential delays.
In addition, we utilize advanced technology that enables us to track flight schedules in real-time. This allows us to monitor any changes in flight times and adjust our pick-up schedule accordingly so that our clients are picked up on time, whether their flight arrives early or experience delays.
Our dedication to timeliness doesn't just stop at arrivals; we also prioritize timely drop-offs at the airport for departures. We understand the importance of arriving at the airport with enough time before boarding.
Affordable pricing options for different types of travelers
Traveling can be an expensive endeavor, and it's essential for travelers to find affordable solutions when it comes to Airport Transportation. This is especially true for airport transfers, as they are necessary for any trip. At Northshorexpress, we understand the importance of providing affordable pricing options for different types of travelers.
We also offer special discounts and packages for frequent flyers or those traveling on extended trips. Our loyalty program rewards customers with discounts based on their frequency of travel with us. Our multiple-ride packages provide cost-effective transportation for long-distance travelers such as tourists staying in Mandeville but planning day trips to other nearby cities like New Orleans, Baton Rouge, or Covington.
Service Area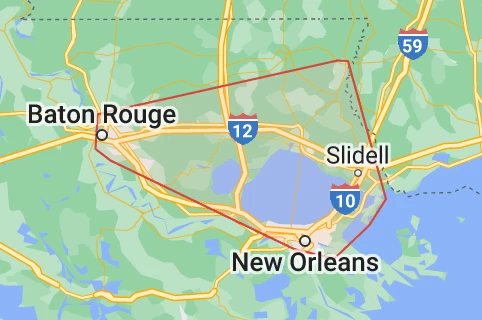 Ready To Book A Ride?
Customer Reviews for NSX Transportation in Mandeville, LA
Martin Bradford Hovsepian Jr.
16 November 2023
Great experience! Clean and comfortable ride!
Tommy O'Neill
16 November 2023
You couldn't ask for better service. They were on time (early actually), with comfortable accommodations, safe driving, kind communication, and knowledge to get us there quickly. 5/5
Chris Snyder
12 November 2023
Have been using this service from Mandeville for the last 6 months now. They are always professional, on time, reliable, and clean vehicles.
Laura Siegel
6 November 2023
Clean car, friendly, great driver!
Ninotochika Jackson
27 October 2023
Awesome customer service the driver's were patient and on time! We were provided complimentary drinks and curb service!! I highly recommend NorthshoreXpress!!
Mark Boone
27 October 2023
Great service, friendly and professional!! Our go to service for all our needs!
Kim Lindemann
24 October 2023
Alex was awesome. It made our trip to New Orleans and back so enjoyable. Nice clean SUV with top notch accommodations. Flexible as well.
David Collier
16 October 2023
NorthshoreXpress picked us up at the airport after midnight on short notice. Clean vehicle with water and snacks. Punctual, helpful, pleasant conversation and smooth trip overall.
Hilda Rodriguez
13 October 2023
Alexander was great & reliable. This Cali girl does not enjoy driving over Lake Pontchartrain! Absolutely not..but with this service I felt comfortable and the ride was easy, just as it should be. Thank you Alexander, I arrived in perfect timing to the airport. Will definitely be using this service again.